ULTIMATE VIDEO SELLING COURSE
This course was built for busy executives, sales professionals, & entrepreneurs (who value their network & reputation) that are looking for a way to authentically prospect for new clients that will pay top dollar to solve big problems in their business!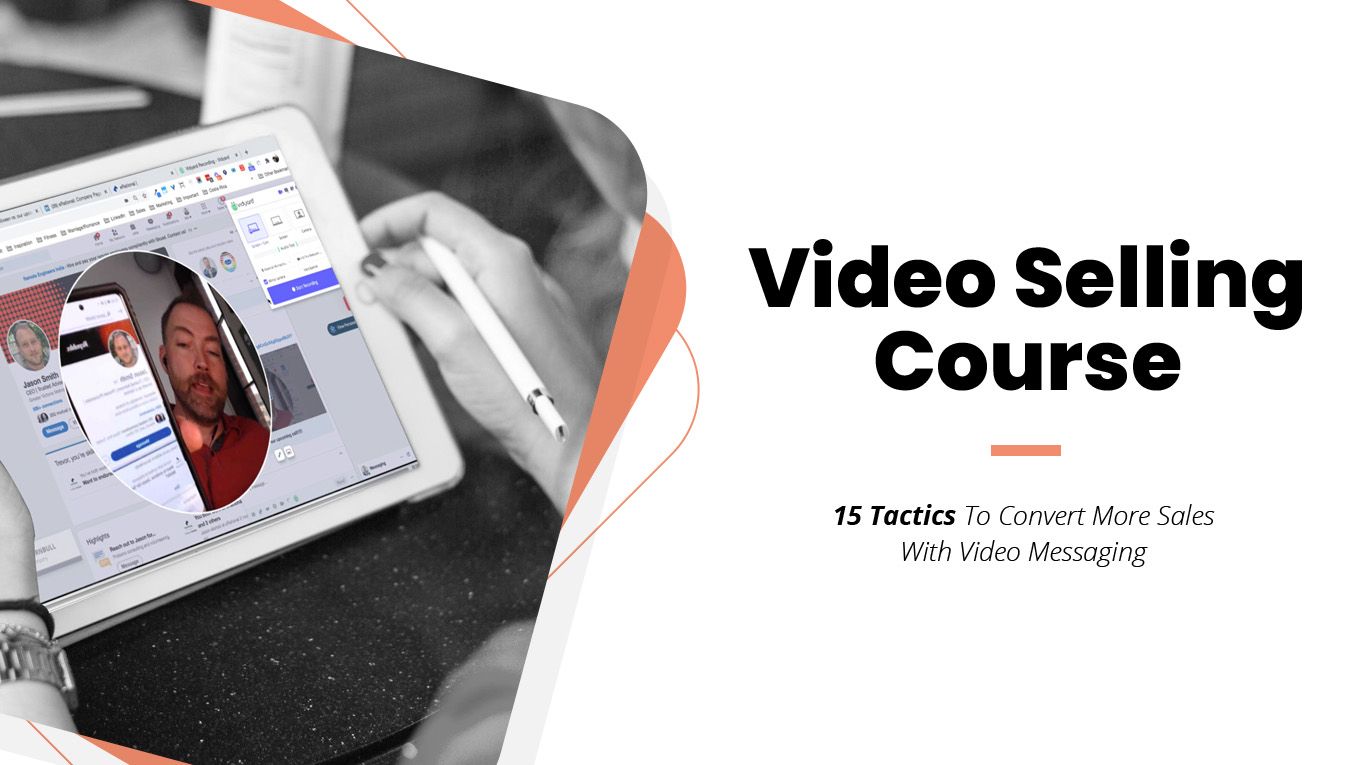 Who is this course for?
This sales training was created for anyone responsible for selling for their company.
The training provided will be your playbook to drive revenue growth. Whether you are the CEO/Founder of a company where you are still doing all the sales in your business or, you manage a sales team (or are on the sales team).

Incremental improvements in conversion rates at each stage can dramatically impact your bottom line.
Accelerate the buyer's journey
What you'll learn in the training videos (and examples) is how to accelerate the buyer's journey at every stage of your sales process - from prospecting to pre-sales call to post-sales call.
Create a deeper connection with your prospects
If you've relied heavily on networking, referrals and word of mouth, the video selling course will show you how to "clone" what worked for you in "real life" (ie. live networking) using online tools that create a deeper connection with your prospects.
By using video messaging, you will be able to build rapport with the humans you are doing business with faster, more effectively and more authentically.
Ultimate Video Selling Course Outline
Meet the instructor
Trevor Turnbull
As a Fractional Chief Growth Officer, Trevor Turnbull serves awe.some leaders (and their teams) to drive scalable growth. Trevor's diverse experience in marketing, sales, operations & product development shortens the client buyer's journey, accelerates the sales cycle, reduces acquisition costs and increases lifetime value. He's in the trenches every day testing and innovating to ensure he is providing relevant and timely solutions to drive revenue for clients.


He has empowered over 26,000 people with his online "client acquisition" training, coaching & mentoring and has shared his personal story and methods in numerous media publications including Forbes, Entrepreneur, Time Money & Business Insider.
Trevor lives in Kelowna, BC, Canada with his wife (Sharmila) and 2 boys (Logan – 4 & Bodhi – 3). When he's not "growth hacking", he can be found teaching his kids to stand on a paddle board in the local lakes to prepare them for surfing the waves of Costa Rica's pacific coast (their future family home).
Utilise video messaging in your prospecting, pre-sales calls, and post-sales calls
Created with